It was with great pleasure that we hosted our second graduation ceremony today at a hotel in central Mogadishu. We were joined by our pupils, their parents and members of the local community and in total more than 70 people come along to help us celebrate the achievements of our students.
A number of activities were held throughout the day including speeches, presentations, and competitions. This year the number of pupils entering the competitions increased a great deal and it was fantastic to see the level of achievement that was on display.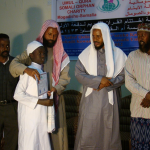 In particular, there was strong competition amongst the boys and girls for the prizes that were awarded to those who completed the recitation of the Quran. In total, 15 boys and girls were awarded the prize and it is hoped that in the next few years more and more pupils will take part in these competitions.